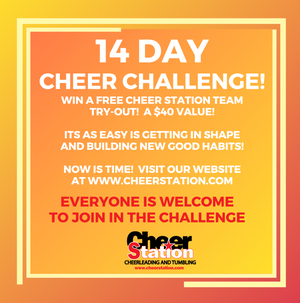 Cheer Station's 14 Day Challenge
Will you accept our Cheer Challenge! It is easy to join with REWARDS THAT COULD LAST A LIFE TIME!
We think that a 14 day challenge may trick the mind into forming a new habit. It's easy to do something or change something if you think it's only for less than a month... and when the time expires, you'll be close towards making a permanent change.
We challenge you in the next 14 days to do 14 (5-7 minute) exercise sessions. If you film your work out in the "time lapse mode" and send them (at the end of the challenge) to videoscheerstation@gmail.com, WE WILL WAIVE YOUR TRY-OUT FEES FOR OUR UPCOMING TEAM TRY-OUTS! This is a $40 value! Team Try-out Dates will be posted soon!
This challenge is open to anyone!
Here are the Rules...
New Athletes are Welcome to Join in on the Challenge!
Watch and complete any of our HiiT Work-outs that are available on our YouTube Page https://www.youtube.com/channel/UCGdI0denQfz7iVos_2tyzlg
While we will continue to post these Hiit Work-outs, You will have to repeat some of them to make the 14 videos
VIDEOS MUST BE SUBMITTED IN TIME LAPSE FORMAT (SUPER FAST PLEASE!)
Please submit all videos at the same time (on April 15th) by midnight
Each session must be at least 5 minutes long
You may do two work-outs in one day
When submitting your video, please include your name and phone number. Please submit the videos from the best email for contacting you!
WE ARE WHAT WE REPEATEDLY DO, EXCELLENCE THEN, IS NOT AN ACT BUT A HABIT!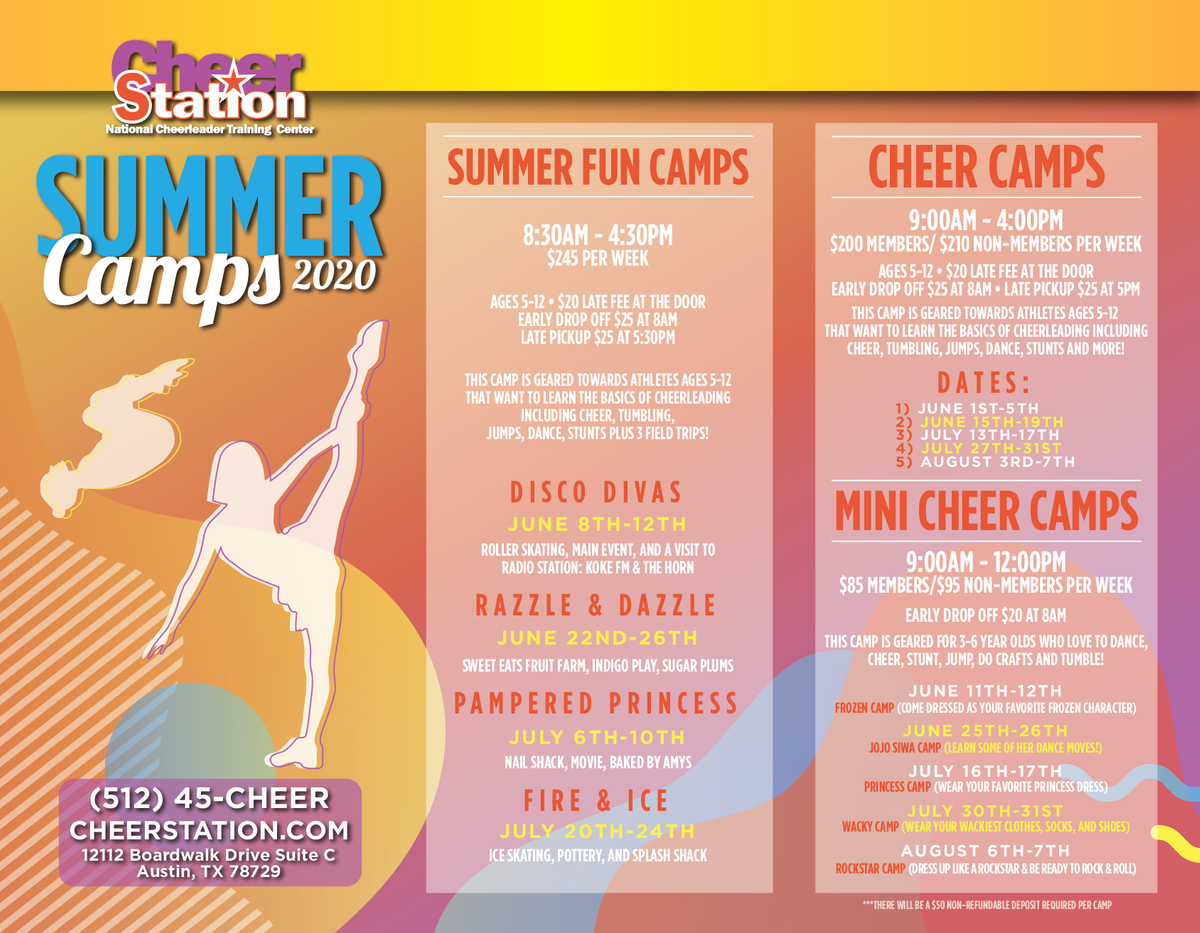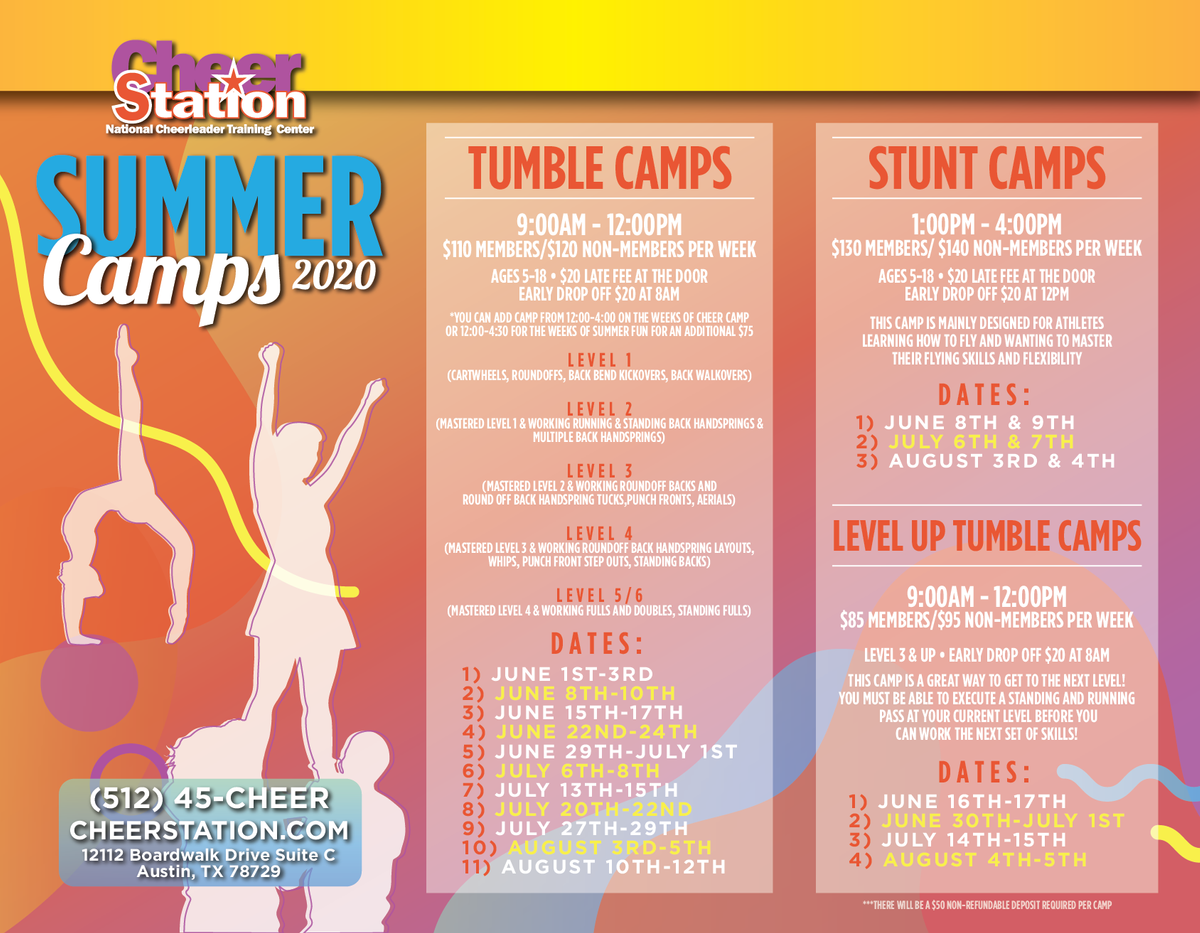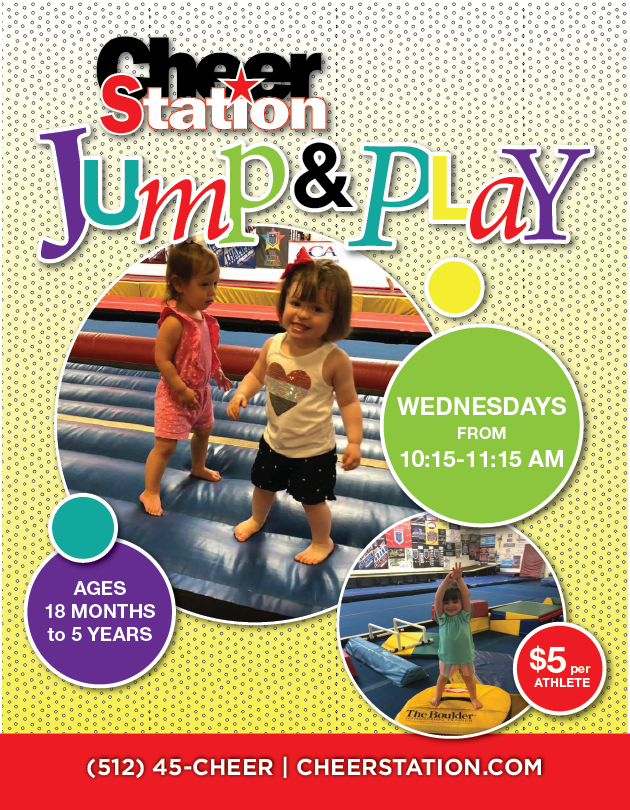 Click here for more information on our Class Programs.
Click here to find out about our team programs!
THE CHEER STATION WAY!
Learn the newest techniques in a safe and encouraging environment! Do you wanna know more about the "Cheer Station Way" of mastering your skills?
Just ask our clients!...
"Loves every Minute of it"
"It has been a growing experience with results we are loving. Coaches are awesome tough when they need to be and caring. My daughter is going on her 4th year and loves every minute of it. We have learned if you stick to it, you only get stronger. These coaches will push as much or as little as you want them to!"
Linda T.
"Tumbling like Crazy"
"We have been at Cheer Station for over 3 years now and just finished our 3rd season. We came from 2 years at another gym where she had hardly learned anything...within two months she was flipping like crazy! It has been such an incredible experience not only for my daughter but us as parents too!"
Julie G.
"Cannot Wait for Next Season"
"This has been a tremendous year watching our team grow into a cohesive team. They support, encourage and push each other to be outstanding athletes. Coach Stephen was amazing and truly cared about each girl. Cannot wait until next season."
Amie M.